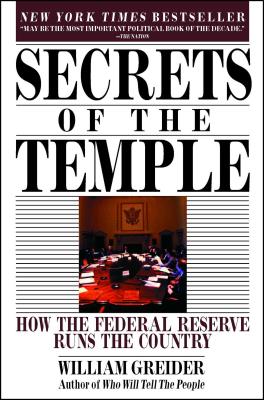 Secrets of the Temple
How the Federal Reserve Runs the Country
Paperback

* Individual store prices may vary.
Description
William Greider's groundbreaking bestseller reveals how the mighty and mysterious Federal Reserve operates—and manipulates and the world's economy.

This ground-breaking best-seller reveals for the first time how the mighty and mysterious Federal Reserve operates—and how it manipulated and transformed both the American economy and the world's during the last eight crucial years. Based on extensive interviews with all the major players, Secrets of the Temple takes us inside the government institution that is in some ways more secretive than the CIA and more powerful than the President or Congress.
Praise For Secrets of the Temple: How the Federal Reserve Runs the Country…
The Nation May be the most important political book of the decade

Washington Post Book World Masterful...Monumental...A virtuoso investigative history.

The New York Times Book Review Breathtaking energy and research...

San Francisco Chronicle Review Spectacular...A superb, riveting narrative of the development of the U.S. political economy...An informative primer on the origins and nature of money

Columbia Journalism Review An awesome achievement...destined to rank as one of the half-dozen best dealing with the Reagan era...a splendid job of reporting...aggressive and insightful.

The Wall Street Journal A gripping portrait of American economic civilization...brilliant author...wonderful book...

Time Lucid and colorful...a historical and analytical work of impressive breadth and depth
Simon & Schuster, 9780671675561, 800pp.
Publication Date: January 15, 1989
About the Author
William Greider is the bestselling author of five previous books, including One World, Ready or Not (on the global economy), Who Will Tell the People (on American politics), and Secrets of the Temple (on the Federal Reserve). A reporter for forty years, he has written for The Washington Post and Rolling Stone and has been an on-air correspondent for six Frontline documentaries on PBS. Currently the national affairs correspondent for The Nation, he lives in Washington, D.C.