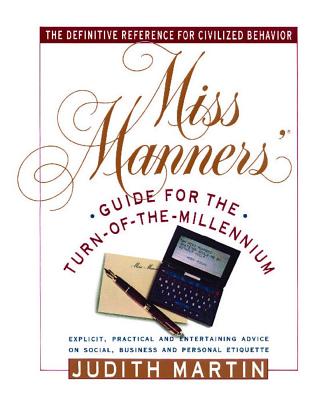 Miss Manners' Guide for the Turn-Of-The-Millennium (Paperback)
Touchstone Books, 9780671722289, 768pp.
Publication Date: November 15, 1990
* Individual store prices may vary.
Description
With the wit, tact, and wisdom that have made Miss Manners a household name, America's foremost authority on civilized behavior takes you through every aspect of your personal, professional, and social life with ease and charm.
From somewhat classic queries:
* What do I wear to a job interview/felony trial/jacuzzi?
* Where does the soup spoon/seafood fork/butter knife go?
To comments on truly modern phenomena:
* Call waiting is like a child screaming for attention
* Leaky earphones are the equivalent of humming
To strictly personal do's and don'ts:
* Don't communicate everything in a marriage ("I had the wildest dream about a man at my office...")
* Do continue the ancient custom of mealtimes, that is, breakfast, lunch, and dinner
And professional guidelines:
* Don't start grabbing company property after being fired
* If a candy dish is on the visitor's side of a receptionist's desk, it is for visitors...
Miss Manners offers consistently sound, sage advice to her Gentle Readers.
With a tipping guide (including coat checks and pizza deliveries), sections devoted to both traditional and nontraditional households, details on protocol for ceremonies and celebrations, invitations and disinvitations, insights on courtship and romance, and much more, this is the comprehensive guide to a kinder, gentler, more civilized society.
About the Author
Miss Manners, also known as Judith Martin, writes a thrice-weekly newspaper column which is internationally syndicated by United Feature Syndicate. In addition to Miss Manners' Guide to Excruciatingly Correct Behavior and Miss Manners' Guide to Rearing Perfect Children, Miss Manners is the author of two novels: Style and Substance and Gilbert, a comedy of manners.
Praise For Miss Manners' Guide for the Turn-Of-The-Millennium…
Publishers Weekly


Miss Manners covers everything one might need to know about proper behaviour, not just for the coming millennium, but in everyday life in the present decade...entertaining as well as practical.


Kirkus Reviews


How thoughtful of Miss Manners to provide us with this useful, almost encyclopedic guide to proper manners for the fin de siècle...Elegant, sensible, exquisitely funny, Miss Manners...leads us through the dark forest of social despair and into the sunny glade of correctness.
or
Not Currently Available for Direct Purchase