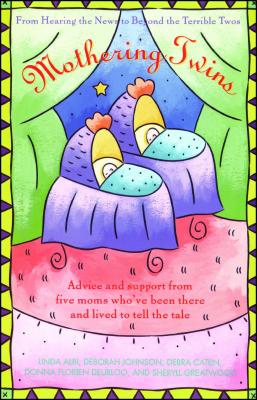 Mothering Twins
From Hearing the News to Beyond the Terrible Twos
Paperback

* Individual store prices may vary.
Description
Invaluable real-life advice and emotional support for mothers of multiples.
Meeting the double challenge and reaping the double rewards of having twins can be both exhilarating and exhausting. In this comprehensive guide to twin pregnancy, birth, and early childhood, five mothers, with six sets of twins among them, share their experiences from the first thrill of seeing two heads on the ultrasound screen to coping with two toddlers determined to go in two directions at once. They offer a variety of "it worked for me" solutions to the many situations unique to caring for twins, whether it's dealing with the complications of a high-risk pregnancy, creating effective support systems, or simply trying to find time for their husbands and themselves.
Emphasizing individuality and adaptability, the authors of Mothering Twins encourage each mother to develop her own parenting approach, based on what's best for her and her children.
Praise For Mothering Twins: From Hearing the News to Beyond the Terrible Twos…
Patricia Malrnstrom Executive Director, Twin Services and the Twinline A wonderful book, full of practical tips and thoughtful insights. Mothering Twins is the best book about the experience of rearing twins that I've read in my fifteen years as director of national services for parents of multiples.
Touchstone, 9780671723576, 416pp.
Publication Date: August 4, 1993
or
Not Currently Available for Direct Purchase