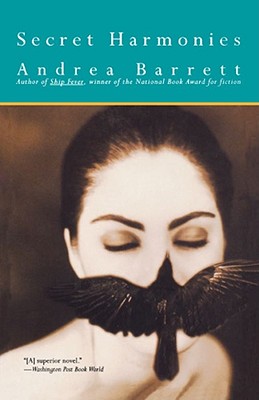 Secret Harmonies (Paperback)
Washington Square Press, 9780671731373, 256pp.
Publication Date: March 1, 1991
Description
Andrea Barrett's novels have received resounding critical acclaim, inspiring comparisons to Gail Godwin and Anne Tyler. In Secret Harmonies, she creates a wonderful portrait of a family struggling to make sense of their lives in the rural hills of western Massachusetts. When childhood sweethearts Reba Dwyer and Luke Wyatt marry, they expect no surprises. But now that Luke--friend of Reba's childhood, friend of her heart--is her husband, discord enters their lives. Secret Harmonies is the utterly absorbing, moving story of what happens to this couple and to the eccentric constellation of loved ones swirling around them.
Praise For Secret Harmonies…
"A superior novel.... Andrea Barrett has succeeded in capturing the complicated rhythms... of a symphony in this simply told tale about relatively simple people just trying to live. What happens to them happens to all of us, one way or another."

"An elegant, poetic prose style; dazzling imagery; a subtle understanding of the complexities of personality; and an ability to look unflinchingly at the compromises people make with life and yet retain compassion and affection for her characters."

"Secret Harmonies continues to establish Andrea Barrett as a strong voice in contemporary literature. The writing is almost flawless, and the story told is believable and absorbing. Barrett has the ability to pull emotions from her readers with an unrelenting instinct for what is true and for how human beings experience life.... Simple but lyrical prose that will remind readers of Anne Tyler. Barrett's gift is her understanding of her characters. They... draw the reader passionately into their stories. That, of course, is what literature is supposed to be about, and it is a pleasure to read an author like Barrett who not only understands this, but has the talent and the magic to make it hapen."

"Fine writing.... Barrett really does know about the secret harmonies that hum below the surface of family life."

"From the title... to its last page, music is the motif of Secret Harmonies—as food for the soul, a spur to memory, an element of order within chaos.... Passages of lyrical power."
Advertisement