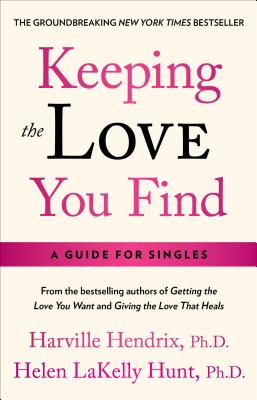 Keeping the Love You Find (Paperback)
Atria Books, 9780671734206, 352pp.
Publication Date: February 1, 1993
* Individual store prices may vary.
About the Author
Harville Hendrix, Ph.D., a clinical pastoral counselor and co-creator of Imago Relationship Therapy, has more than thirty-five years' experience as an educator, public lecturer, and couples' therapist.
Praise For Keeping the Love You Find…
"To build a great love, you both have to leap into self-discovery...Dr. Hendrix has helped thousands of couples hand in there together." -- T. George Harris, founding editor, American Health and Psychology Today
— T. George Harris

"To build a great love, you both have to leap into self-discovery...Dr. Hendrix has helped thousands of couples hand in there together." -- T. George Harris, founding editor, American Health and Psychology Today
— T. George Harris

"To build a great love, you both have to leap into self-discovery...Dr. Hendrix has helped thousands of couples hand in there together." -- T. George Harris, founding editor, American Health and Psychology Today
— T. George Harris

"To build a great love, you both have to leap into self-discovery...Dr. Hendrix has helped thousands of couples hand in there together." -- T. George Harris, founding editor, American Health and Psychology Today
— T. George Harris

"To build a great love, you both have to leap into self-discovery...Dr. Hendrix has helped thousands of couples hand in there together." -- T. George Harris, founding editor, American Health and Psychology Today
— T. George Harris

"To build a great love, you both have to leap into self-discovery...Dr. Hendrix has helped thousands of couples hand in there together." -- T. George Harris, founding editor, American Health and Psychology Today
— T. George Harris

"To build a great love, you both have to leap into self-discovery...Dr. Hendrix has helped thousands of couples hand in there together." -- T. George Harris, founding editor, American Health and Psychology Today
— T. George Harris

"To build a great love, you both have to leap into self-discovery...Dr. Hendrix has helped thousands of couples hand in there together." -- T. George Harris, founding editor, American Health and Psychology Today
— T. George Harris

"To build a great love, you both have to leap into self-discovery...Dr. Hendrix has helped thousands of couples hand in there together." -- T. George Harris, founding editor, American Health and Psychology Today
— T. George Harris

"To build a great love, you both have to leap into self-discovery...Dr. Hendrix has helped thousands of couples hand in there together." -- T. George Harris, founding editor, American Health and Psychology Today
— T. George Harris

"To build a great love, you both have to leap into self-discovery...Dr. Hendrix has helped thousands of couples hand in there together." -- T. George Harris, founding editor, American Health and Psychology Today
— T. George Harris

"To build a great love, you both have to leap into self-discovery...Dr. Hendrix has helped thousands of couples hand in there together." -- T. George Harris, founding editor, American Health and Psychology Today
— T. George Harris

"To build a great love, you both have to leap into self-discovery...Dr. Hendrix has helped thousands of couples hand in there together." -- T. George Harris, founding editor, American Health and Psychology Today
— T. George Harris

"To build a great love, you both have to leap into self-discovery...Dr. Hendrix has helped thousands of couples hand in there together." -- T. George Harris, founding editor, American Health and Psychology Today
— T. George Harris

"To build a great love, you both have to leap into self-discovery...Dr. Hendrix has helped thousands of couples hand in there together." -- T. George Harris, founding editor, American Health and Psychology Today
— T. George Harris

"To build a great love, you both have to leap into self-discovery...Dr. Hendrix has helped thousands of couples hand in there together." -- T. George Harris, founding editor, American Health and Psychology Today
— T. George Harris

"To build a great love, you both have to leap into self-discovery...Dr. Hendrix has helped thousands of couples hand in there together." -- T. George Harris, founding editor, American Health and Psychology Today
— T. George Harris