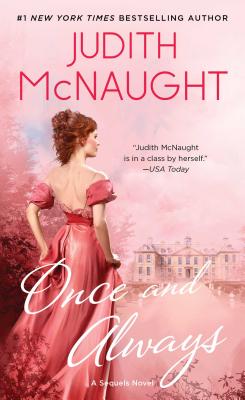 Once and Always (The Sequels series #1) (Paperback)
Pocket Books, 9780671737627, 400pp.
Publication Date: September 20, 1990
* Individual store prices may vary.
Description
Across the vast ocean sailed Victoria Seaton, a free-spirited American beauty left suddenly orphaned and alone. Eager to claim her long-lost heritage, she was amazed at the formal elegance of Wakefield, the sumptuous English estate of her distant cousin...the notorious Lord Jason Fielding. Sought after at plays, operas, and balls by London's most fashionable ladies, Jason remained a mystery to Victoria. Bewildered by his arrogant demeanor, yet drawn to his panther-like grace, she came to sense the searingly painful memories that smoldered in the depths of his jade-green eyes.
Unable to resist her spitfire charm, Jason gathered her at last into his powerful arms, ravishing her lips with his kisses, arousing in her a sweet, insistent hunger. Wed in desire, they were enfolded in a fierce, consuming joy, free at last from the past's cruel grasp. Then, in a moment of blinding anguish, Victoria discovered the shocking treachery that lay at the heart of their love...a love she had dreamed would triumph...Once And Always.
About the Author
Judith McNaught is the #1 New York Times bestselling author who first soared to stardom with her stunning bestseller Whitney, My Love, and went on to win the hearts of millions of readers with Once and Always, Something Wonderful, A Kingdom of Dreams, Almost Heaven, Paradise, Perfect, Until You, Remember When, Someone to Watch Over Me, the #1 New York Times bestseller Night Whispers, and many other novels. There are more than thirty million copies of her books in print. She lives in Texas.
Praise For Once and Always (The Sequels series #1)…
Judith McNaught once again works her unique magic in this charming, sparkling romance.

People have been waiting for this book for years… Until You takes you on a roller-coaster ride of emotions.

By portraying her protagonists with verve and good humor, and adroitly mixing corporate maneuvers and passionate encounters, McNaught has produced a captivating tale.

Fans of Danielle Steel and Janet Daily who enjoy a stylish… fast-paced story will welcome McNaught.

Judith McNaught comes close to an Edith Wharton edge.

A mixture of virtue and passion that is almost—ahem—perfect.

Judith McNaught is in a class by herself.

The ultimate love story, one you can dream about forever.

A wonderful love story…fast-paced and exciting…great dialogue!

A perennial favorite, Judith McNaught adds a new layer of suspense to her latest romantic release. Her unique voice and talent shine through in this exciting tale of loyalty, love and danger.

…Romance is McNaught's bread and butter and she serves it up in abundance.

Judith McNaught not only spins dreams, but she makes them come true... She makes you laugh, cry and fall in love again. This book is a cherished treasure.

Well-developed main characters with a compelling mutual attraction give strength and charm to this romance set in 19th-century Great Britain.

Judith McNaught is a magical dreamspinner, a sensitive writer who draws on our childhood hopes and reminds us of loves power. A KINGDOM OF DREAMS will stay in your heart forever and be a classic on your shelves.