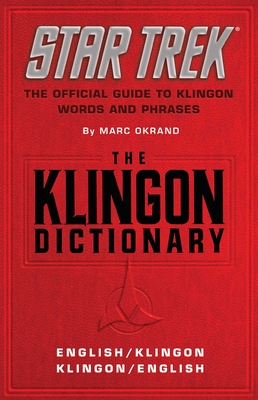 The Klingon Dictionary (Paperback)
The Official Guide to Klingon Words and Phrases (Star Trek )
Pocket Books/Star Trek, 9780671745592, 192pp.
Publication Date: January 1, 1992
* Individual store prices may vary.
Description
The Klingon Dictionary is the first comprehensive sourcebook for Klingon language and syntax, including fundamental rules of grammar as well as words and expressions that illustrate the complex nature of Klingon culture. It features a precise pronunciation guide, rules for proper use of affixes and suffixes, and a small phrasebook with Klingon translations for essential expressions such as "Activate the transport beam," "Always trust your instincts," and the ever-popular "Surrender or die!"
About the Author
Marc Okrand is a linguist who created the Klingon language heard in several Star Trek films and television series. He is the author of three books.