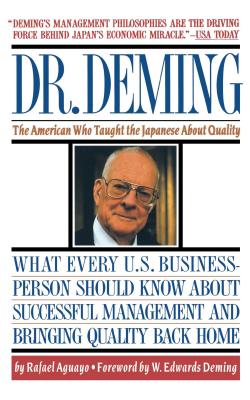 Dr. Deming (Paperback)
The American Who Taught the Japanese About Quality
Touchstone, 9780671746216, 304pp.
Publication Date: September 15, 1991
* Individual store prices may vary.
Description
Dr. W. Edwards Deming, a household name in Japan, became the prime catalyst behind the incredible success of Japanese industry. In fact, since 1951, the Deming Prize has been the most coveted and prestigious award among Japanese corporations, similar to the Malcolm Baldrige Award for quality in business in the United States. Today, Deming is finally becoming a household name in his own country. The lessons he has to teach American business are more urgent than ever.
Just how different is the Deming Management Method? Compare just a few of the many differences in beliefs between conventional organizations and Deming organizations:
Standard Company
* Quality is expensive
* Defects are caused by workers
* Buy at lowest cost
* Fear and reward are proper ways to motivate
* Play one supplier off against another
Deming Company
* Quality leads to lower costs
* Most defects are caused by the system
* Buy from vendors committed to quality
* Fear leads to disaster
* Work with suppliers
About the Author
Rafael Aguayo studied with W. Edwards Deming for seven years, has worked in the financial sector for fifteen years, and is a consultant in quality and management. He lives in Brooklyn, New York.
Praise For Dr. Deming: The American Who Taught the Japanese About Quality…
USA Today Deming's management philosophies are the driving force behind Japan's economic miracle.

Publishers Weekly Author Rafael Aguayo contends persuasively that Deming's advice is savvy, current, even indispensable.

San Francisco Chronicle An energetic step-by-step introduction with lots of snappy subheads and entertaining anecdotes.

Business Week Aguayo offers a schematic for putting Deming's teachings to work.