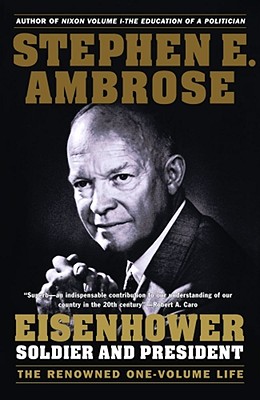 Eisenhower (Paperback)
Soldier and President
Simon & Schuster, 9780671747589, 640pp.
Publication Date: October 15, 1991
Other Editions of This Title:
Prebound (10/15/1991)
* Individual store prices may vary.
Description
Stephen E. Ambrose draws upon extensive sources, an unprecedented degree of scholarship, and numerous interviews with Eisenhower himself to offer the fullest, richest, most objective rendering yet of the soldier who became president. He gives us a masterly account of the European war theater and Eisenhower's magnificent leadership as Allied Supreme Commander. Ambrose's recounting of Eisenhower's presidency, the first of the Cold War, brings to life a man and a country struggling with issues as diverse as civil rights, atomic weapons, communism, and a new global role. Along the way, Ambrose follows the 34th President's relations with the people closest to him, most of all Mamie, his son John, and Kay Summersby, as well as Franklin D. Roosevelt, Winston Churchill, Charles de Gaulle, Harry Truman, Nixon, Dulles, Khrushchev, Joe McCarthy, and indeed, all the American and world leaders of his time. This superb interpretation of Eisenhower's life confirms Stephen Ambrose's position as one of our finest historians.
Praise For Eisenhower: Soldier and President…
Publishers Weekly


The definitive one-volume biography of Eisenhower.


Robert J. Donovan


The best book to date on its subject....Of Eisenhower's high rank on the
list of presidents there can he little doubt.


John Keegan


A magnificent biography.


James MacGregor Bums


Fascinating....An important case study in military and political leader
ship.