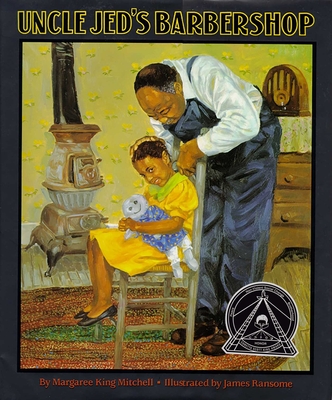 Uncle Jed's Barber Shop (Hardcover)
Simon & Schuster Books for Young Readers, 9780671769697, 40pp.
Publication Date: August 1, 1993
* Individual store prices may vary.
Description
Sarah Jean's Uncle Jed was the only black barber in the county. He had a kind heart and a warm smile. And he had a dream.
Living in the segregated South of the 1920's, where most people were sharecroppers. Uncle Jed had to travel all over the county to cut his customers' hair. He lived for the day when he could open his very own barbershop. But it was a long time, and many setbacks, from five-year-old Sarah Jean's emergency operation to the bank failures of the Great Depression, before the joyful day when Uncle Jed opened his shiny new shop -- and twirled a now grown-up Sarah Jean around in the barber chair.
With James Ransome's richly colored paintings brimming with life, this is a stirring story of dreams long deferred and finally realized.
About the Author
James E. Ransome's highly acclaimed illustrations for Before She Was Harriett received the 2018 Coretta Scott King Illustrator Honor. His other award-winning titles include Coretta Scott King Honor Book Uncle Jed's Barbershop; Sweet Clara and the Freedom Quilt; and Let My People Go, winner of the NAACP Image Award. He frequently collaborates with his wife, author Lesa Cline-Ransome. Some of their titles include Game Changers: The Story of Venus Serena Williams, which received four starred reviews; My Story, My Dance: Robert Battle's Journey to Alvin Ailey; and Words Set Me Free: The Story of Young Frederick Douglass. Mr. Ransome teaches illustration at Pratt Institute and lives in upstate New York with his family. Visit James at JamesRansome.com.