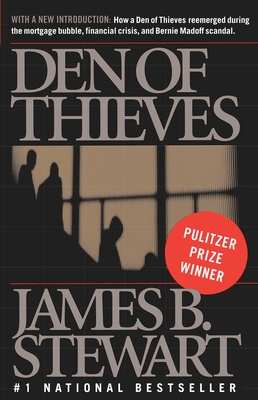 Den of Thieves (Paperback)
Simon & Schuster, 9780671792275, 592pp.
Publication Date: September 1, 1992
Description
A #1 bestseller from coast to coast, Den of Thieves tells the full story of the insider-trading scandal that nearly destroyed Wall Street, the men who pulled it off, and the chase that finally brought them to justice. Pulitzer Prize-winner James B. Stewart shows for the first time how four of the eighties' biggest names on Wall Street--Michael Milken, Ivan Boesky, Martin Siegel, and Dennis Levine --created the greatest insider-trading ring in financial history and almost walked away with billions, until a team of downtrodden detectives triumphed over some of America's most expensive lawyers to bring this powerful quartet to justice. Based on secret grand jury transcripts, interviews, and actual trading records, and containing explosive new revelations about Michael Milken and Ivan Boesky written especially for this paperback edition, Den of Thieves weaves all the facts into an unforgettable narrative--a portrait of human nature, big business, and crime of unparalleled proportions.
Praise For Den of Thieves…
Michael Thomas
The New York Times

Absolutely Splendid...Tremendously Important...Indecently Readable.


USA Today


A fast-paced adventure populated with people who could teach the characters in 'Dallas' and 'Dynasty' a thing or two....It is a must read for anyone trying to make sense of the greed decade.


The Seattle Times


A revealing, disturbing tale of what can happen when greed runs rampant.


The Washington Post


Bursting with details...but told with magical clarity.


The Philadelphia Inquirer


Stewart takes the reader through the maze of arcane Wall Street dealings as if he were writing a detective story.
Advertisement