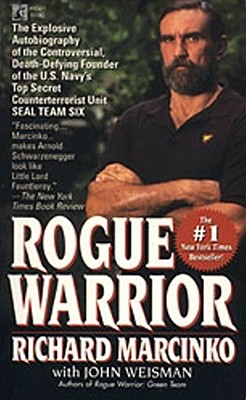 Rogue Warrior
Red Cell
Mass Market

* Individual store prices may vary.
Other Editions of This Title:
Digital Audiobook (4/30/1999)
Digital Audiobook (2/28/1995)
Digital Audiobook (2/29/1996)
Digital Audiobook (1/31/1999)
Digital Audiobook (4/30/2000)
Digital Audiobook (4/30/2001)
Paperback (11/30/2010)
Paperback (9/29/2009)
Paperback (11/25/2014)
Description
A brilliant virtuoso of violence, Richard Marcinko rose through Navy ranks to create and command one of this country's most elite and classified counterterrorist units, SEAL TEAM SIX. Now this thirty-year veteran recounts the secret missions and Special Warfare madness of his worldwide military career -- and the riveting truth about the top-secret Navy SEALs.
Marcinko was almost inhumanly tough, and proved it on hair-raising missions across Vietnam and a war-torn world: blowing up supply junks, charging through minefields, jumping at 19,000 feet with a chute that wouldn't open, fighting hand-to-hand in a hellhole jungle. For the Pentagon, he organized the Navy's first counterterrorist unit: the legendary SEAL TEAM SIX, which went on classified missions from Central America to the Middle East, the North Sea, Africa and beyond.
Then Marcinko was tapped to create Red Cell, a dirty-dozen team of the military's most accomplished and decorated counterterrorists. Their unbelievable job was to test the defenses of the Navy's most secure facilities and installations. The result was predictable: all hell broke loose.
Here is the hero who saw beyond the blood to ultimate justice -- and the decorated warrior who became such a maverick that the Navy brass wanted his head on a pole, and for a time, got it. Richard Marcinko -- ROGUE WARRIOR.
Pocket Books, 9780671795931, 416pp.
Publication Date: March 1, 1993
About the Author
Richard Marcinko retired from the Navy as a full commander after more than thirty years of service. Her currently lives in the Alexandria, Virginia, area, where he is CEO of SOS Temps Inc., his private security firm whose clients are governments and corporations, and Richard Marcinko Inc., a motivational training and team-building company. He is also designing Crossroads Training and Development Center at Freedom, Indiana. He is the author of The Rogue Warrior®'s Strategy for Success: A Commando's Principles of Winning, and the four-month New York Times business bestseller Leadership Secrets of the Rogue Warrior: A Commando's Guide to Success. In addition to his bestselling autobiography, Rogue Warrior, he is coauthor with John Weisman of the New York Times bestselling novels Rogue Warrior: Red Cell, Rogue Warrior: Green Team, Rogue Warrior: Task Force Blue, Rogue Warrior: Designation Gold, Rogue Warrior: Seal Force Alpha, Rogue Warrior: Option Delta, and Rogue Warrior: Echo Platoon, all published by Pocket Books.