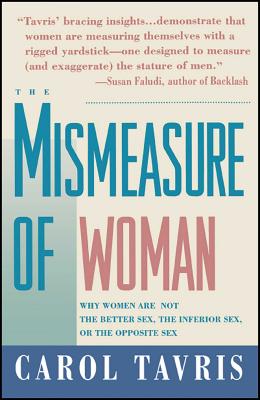 Mismeasure of Woman: Why Women Are Not the Better Sex, the Inferior Sex, or the Opposite Sex (Paperback)
Why Women Are Not the Better Sex, the Inferior Sex, or the Opposite Sex
Touchstone Books, 9780671797492, 400pp.
Publication Date: February 26, 1993
Description
When "man is the measure of all things," woman is forever trying to measure up. In this enlightening book, Carol Tavris unmasks the widespread but invisible custom -- pervasive in the social sciences, medicine, law, and history -- of treating men as the normal standard, women as abnormal. Tavris expands our vision of normalcy by illuminating the similarities between women and men and showing that the real differences lie not in gender, but in power, resources, and life experiences.
Winner of the American Association for Applied and Preventive Psychology's Distinguished Media Contribution Award.
About the Author
Carol Tavris, Ph.D., is a social psychologist, lecturer, and writer on many aspects of psychology. Her books include Anger: The Misunderstood Emotion. Tavris is a Fellow of the American Psychological Association. She lives in Los Angeles, California.
Praise For Mismeasure of Woman: Why Women Are Not the Better Sex, the Inferior Sex, or the Opposite Sex…
Susan Faludi
author of Backlash

Tavris' bracing insights...demonstrate that women are measuring themselves with a rigged yardstick -- one designed to measure (and exaggerate) the stature of men.


Harriet Goldhor Lerner, Ph.D.
author of The Dance of Anger

Original, provocative, and utterly fascinating, this splendid book will change profoundly the way we think about the sexes -- and sex differences.


Sam Keen
author of Fire in the Belly

By destroying destructive myths about the inferiority and superiority of women, The Mismeasure of Woman provides the ground for a new dialogue between men and women.


Booklist


What Betty Friedan's The Feminine Mystique did to raise the social consciousness of women, Tavris' book is certain to do for the public awareness of medical and mental health issues as they affect women....Captivating and well documented.


The New York Times Book Review


[Written with] wit, erudition, and moderation....The great virtue of this book is that its author never confuses the very real differences in women's and men's experiences -- pregnancy and childbearing being the most obvious -- with the cultural artifacts surrounding these undeniable facts of life.


Toronto Globe and Mail


By examining with microscopic attention everything from PMS to sexual abuse survivor groups, from the G spot to theories about women, war and peace, Tavris makes just about everyone pretty uncomfortable. Many sacred cows are brought to their knees if not to actual slaughter; all the emperors and a few empresses turn out to be, well, naked.


Susan Faludi
(author of Backlash), in the San Francisco Chronicle

In the good humored and commonsense approach that has typified her work, Tavris shows how both men and women use dubious standards of measure....[Women can start to change] by arming themselves with Tavris' bracing insights.


Publishers Weekly


A valuable, enlightening roadmap to sanity for women and men.


Kirkus Reviews


The author's unusual ability to winnow out deeply embedded errors in thinking makes this an especially important, stimulating, and timely work.


Philadelphia Inquirer


Tavris' lucid analysis is sharpened by a wit that punctures the pretensions of "experts."...This provocative book covers an impressive range of topics [and is] a thoughtful, challenging contribution to the debate on gender and its social meaning -- a humane plea for understanding between men and women.
Advertisement