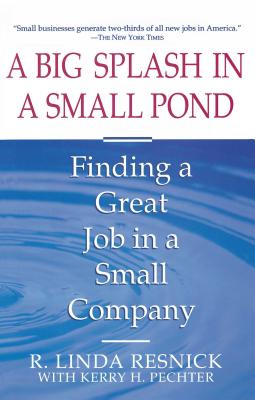 Big Splash in Small Pond (Paperback)
Touchstone Books, 9780671798079, 224pp.
Publication Date: January 1, 1994
* Individual store prices may vary.
Description
Today's job market is the toughest in recent history. Nearly every day, big companies make headlines by laying off thousands of workers.
The hidden bright spot is that small companies have created tens of thousands of good new jobs. Nearly 80 percent of all new jobs have been created not by big corporations but by small companies.
"A Big Splash in a Small Pond" is the first book that gives you the tools you need to find the job you want. It offers:
Self-evaluations to help you decide if you'll fit in with small-company culture;
Reserch tools for tracking down small companies in the field of your choice;
Tips on fine-tuning your networking skills to make the right contacts and get the recommendations small businesses look for;
Proven techniques for discovering what small business managers want-- and tailoring your resumes and interviews to make the best impression;
Profiles of typical small business managers-- to help you tell what kind of small business you'd like best.
"A Big Splash in a Small Pond" will help outplaced corporate employees, recent college graduates, former career military, women returning to the workforce, and frustrated professionals find new opportunities in the workplace of the 1990's.