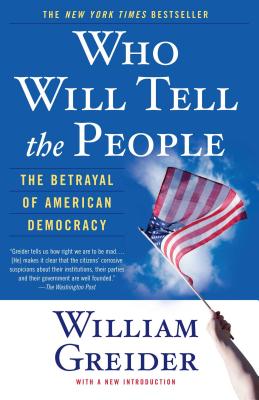 Who Will Tell the People (Paperback)
The Betrayal of American Democracy
Simon & Schuster, 9780671867409, 464pp.
Publication Date: June 1, 1993
* Individual store prices may vary.
Description
Who Will Tell the People is a passionate, eye-opening challenge to American democracy. Here is a tough-minded exploration of why we're in trouble, starting with the basic issues of who gets heard, who gets ignored, and why. Greider shows us the realities of power in Washington today, uncovering the hidden relationships that link politicians with corporations and the rich, and that subvert the needs of ordinary citizens.
How do we put meaning back into public life? Greider shares the stories of some citizens who have managed to crack Washington's Grand Bazaar of influence peddling as he reveals the structures designed to thwart them. Without naivet or cynicism, Greider shows us how the system can still be made to work for the people, and delineates the lines of battle in the struggle to save democracy. By showing us the reality of how the political decisions that shape our lives are made, William Greider explains how we can begin to take control once more.
Praise For Who Will Tell the People: The Betrayal of American Democracy…
Christian Science Monitor


Raises questions that every American who retains a faith in the self-correcting capacities of democracy ought to confront. Greider's assessment is a compelling one.


New York Daily News


One of those rare, essential books that should be not merely read but memorized.


Time


Who Will Tell the People sets out to explain precisely how and why American democracy has washed up on the shoals of cynicism. The complaint may sound familiar, but such a brief précis does not do justice to either the freshness of Greider's argument or the ambition of his approach.


The Nation


William Greider has given us the most subtle interpretation of contemporary American political culture yet to appear in print.


Houston Chronicle


The real question for Greider and for us is what we can do to reclaim democracy, to take it back from the wealthy special-interest groups that control the national agenda....Who Will Tell the People is a call to action. He makes a good argument that we'd better get busy if we are to make government work for us.


The Washington Monthly


Valuable...Inspiring...[Greider's] criticism is not only broad but deep.


Playboy


[An] eye-opening expose of how government has become a game for lobbyists, lawyers and influence brokers....Stirring.


New York Newsday


Greider knows Washington exceptionally well and is a fine guide to the pork-barreling and back-scratching that glue together the private welfare state.


San Francisco Chronicle


Impassioned account of what has gone wrong with our democracy...[Greider] brings to his examination of the American political system an outsider's outrage and an insider's knowledge.


The Washington Post


Greider has mastered the knack of being sweeping and meticulous at the same time....Greider makes it clear that the citizens' corrosive suspicions about their institutions, their parties and their government are well founded.