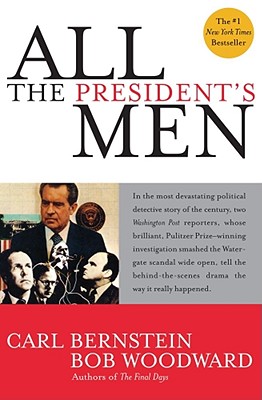 All the President's Men (Paperback)
Simon & Schuster, 9780671894412, 352pp.
Publication Date: June 16, 1994
Other Editions of This Title:
Mass Market Paperback (6/24/2005)
* Individual store prices may vary.
Description
The full account of the Watergate scandal from the two Washington Post reporters who broke the story. This is "the work that brought down a presidency…perhaps the most influential piece of journalism in history" (Time, All-Time 100 Best Nonfiction Books).

This is the book that changed America. Published just two months before President Nixon's resignation, All the President's Men revealed the full scope of the Watergate scandal and introduced for the first time the mysterious "Deep Throat." Beginning with the story of a simple burglary at Democratic headquarters and then continuing through headline after headline, Bernstein and Woodward deliver the stunning revelations and pieces in the Watergate puzzle that brought about Nixon's shocking downfall. Their explosive reports won a Pulitzer Prize for The Washington Post, toppled the president, and have since inspired generations of reporters.

All the President's Men is a riveting detective story, capturing the exhilarating rush of the biggest presidential scandal in U.S. history as it unfolded in real time. It is, as former New York Times managing editor Gene Roberts has called it, "maybe the single greatest reporting effort of all time."
About the Author
Bob Woodward is an associate editor at The Washington Post, where he has worked for forty-seven years. He has shared in two Pulitzer Prizes, first for the Post's coverage of the Watergate scandal with Carl Bernstein, and second in 2003 as the lead reporter for coverage of the 9/11 terrorist attacks. He has authored or coauthored eighteen books, all of which have been national nonfiction bestsellers. Twelve of those have been #1 national bestsellers.

Carl Bernstein is a contributing editor for Vanity Fair magazine and has written for a variety of publications. He is the author of Loyalties: A Son's Memoir, and has coauthored His Holiness: John Paul II and the History of Our Time with Marco Politi, as well as All the President's Men and The Final Days with Bob Woodward.
Praise For All the President's Men…
"The work that brought down a presidency . . . perhaps the most influential piece of journalism in history."
— Time, All-Time 100 Best Non-Fiction Books

"Maybe the single greatest reporting effort of all time."
— Gene Roberts, former managing editor of The New York Times

"One of the greatest detective stories ever told."
— The Denver Post

"A fast-moving mystery, a whodunit written with ease. . . . A remarkable book."
— The New York Times

"An authentic thriller."
— Dan Rather

"Much more than a 'hot book.' It is splendid reading . . . of enormous value. . . . A very human story."
— The New Republic
or
Not Currently Available for Direct Purchase