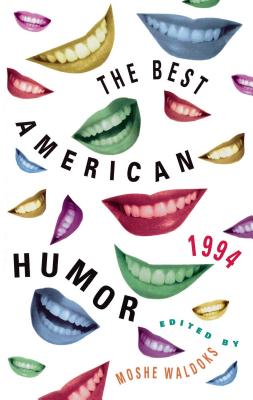 Best American Humor 1994
Paperback

* Individual store prices may vary.
Description
This debut collection of The Best American Humor celebrates the funniest short stories, essays, articles, and excerpts of the past year. The more than 40 entries in this edition feature some of the most well-known wits and humorists, including Garry Trudeau, Russell Baker, Paul Rudnick, Douglas Coupland, Garrison Keillor, Conan O'Brien, Philip Roth, T. Coraghessan Boyle, and John Updike among others. Edited by Moshe Waldoks, who co-edited the bestselling The Big Book of Jewish Humor and The Big Book of New American Humor, this volume -- the only "best of the year" humor anthology -- is a hilarious, cynical, witty, sarcastic, and laugh-out-loud look at the funny side of existence and survival. The Best American Humor 1994 is sure to delight all lovers of fun and laughter.
Contributors
Jerry Adler
Meredith Anthony
Russell Baker
Stanley Bing
T. Coraghessan Boyle
Ron Carlson
Mark Childress
Andrei Codrescu
Douglas Coupland
Jim Crotty
Amanda Filipacchi
Karen Finley
Ian Frazier
Frank Gannon
Jim Garner
Libby Gellman-Waxner
Veronica Geng
Molly Giles
Robert Grossman
Michael Guinzberg
Cynthia Heimel
Robin Hemley
Harold Jaffe
Garrison Keillor
Mike Lane
Bryon Lanning
Mark Leyner
Gordon Lish
Bruce McCall
Daniel Mendelsohn
Ron Nyswaner
Conan O'Brien
Emily Prager
Philip Roth
Paul Rudnick
Cathleen Schine
Steve Stern
Linda Sunshine
Garry Trudeau
John Updike
Wendy Wasserstein
Gallery Books, 9780671899400, 304pp.
Publication Date: November 15, 1994
About the Author
Moshe Waldoks is the co-editor of the bestselling The Big Book of Jewish Humor and The Big Book of New American Humor. He lives in Massachusetts.