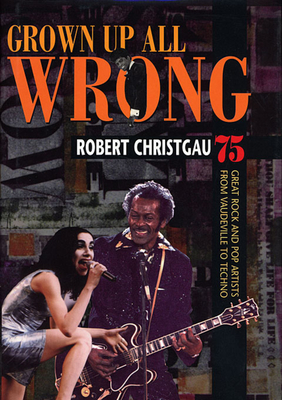 Grown Up All Wrong (Paperback)
75 Great Rock and Pop Artists from Vaudeville to Techno
Harvard University Press, 9780674003828, 512pp.
Publication Date: November 1, 2000
* Individual store prices may vary.
Description
This text chronicles popular music in America. It covers the originators of rock and roll, established artists and those newer to the scene, ranging from 1950s singer-songwriters through hip-hop alternative. It illuminates legends from pop music, and rock and roll such as George Gershwin, Nat King Cole, B.B. King, Chuck Berry and Elvis Presley. It also looks at the subtle transition to just plain rock in the music of Janis Joplin, the Rolling Stones, Eric Clapton, Aretha Franklin, James Brown, and others. From Rolling Stones to Sonic Youth to Nirvana, from Bette Midler to Michael Jackson to DJ Shadow, Robert Christgau the text seems to show how money calls the tune in careers not necessarily compromised by their intercourse with commerce.