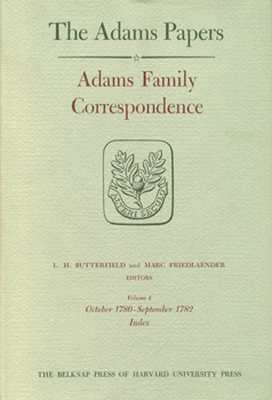 Adams Family Correspondence, Volume 3 and 4 (Hardcover)
April 1778 - September 1782 (Adams Papers #2)
Belknap Press, 9780674004054, 486pp.
Publication Date: January 1, 1973
Other Editions of This Title:
Hardcover (8/13/2019)
Hardcover (7/1/2013)
Hardcover (7/1/2009)
Hardcover (3/15/2011)
Hardcover (8/14/2017)
Hardcover (6/9/2015)
Hardcover (7/29/2005)
Hardcover (12/1/1992)
Hardcover (1/1/1963)
Hardcover (2/1/2007)
* Individual store prices may vary.
Description
The letters in these volumes, written from both sides of the Atlantic, addressed by and to members of the Adams family, chronicle nearly five years of its history, They were years in which John Adams in successive missions to Europe, accompanied first by one son, then by two, initiated what would be a continuing role for Adamses in three generadons: representing their country and advancing its interests in the capitals of Europe.
John Adams, a troubled but stouthearted Yankee lawyer on the vast new scene of Europe, though always circumspect in familial correspondence in referring to public matters, provides, in his revealing letters about his own health and state of mind, sufficient insight into the difficult relations among the American commissioners, the designs of America's allies, and the diplomatic failures and triumphs he experienced in Paris and the Netherlands to permit some reevaluations of purposes and tactics. With these high matters are mingled the rigors and rewards of travel, concern with his sons' education, books for their reading, Dutch cloth and ribbons for his wife.
Whether Mrs. Adams' letters relate to the upbringing of children, the problems of wartime taxes and inflation, the inferior roles assigned to American women, or her wide historical reading, they bear the marks of distinction of mind and mastery of language that make them timeless.
If the letters of these two are central, those written by others are hardly less interesting, relating as they do to the concerns of young John Quincy at school in Levden and his observations on his way to and during his stay in St. Petersburg at age fourteen: to the adventure-filled return voyage of Charles, aged eleven, to America; to the interests of the younger Abigail maturing in Braintree; to the reactions of sturdy patriots to the tides and rumors of war.
or
Not Currently Available for Direct Purchase