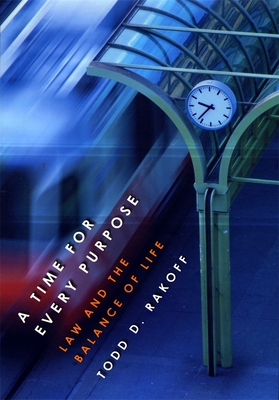 A Time for Every Purpose (Hardcover)
Law and the Balance of Life
Harvard University Press, 9780674009103, 240pp.
Publication Date: October 18, 2002
* Individual store prices may vary.
Description
Who organizes our time? Who decides when we must be at work and at school, when we set back our clocks, and when retail stores will close? Todd Rakoff traces the law's effect on our use of time and discovers that the structure of our time is gradually changing. As Rakoff demonstrates, the law's influence is subtle, and so ubiquitous that we barely notice it. But its structure establishes the terms by which society allocates its efforts, coordinates its many players, establishes the rhythms of life, and indeed gives meaning to the time in which we live. Compulsory education law, overtime law, daylight-saving law, and Blue Laws are among the many rules government uses to shape our use of time.
More and more, however, society, and especially the workplace, has come to see time simply as a quantity whose value must be maximized. As lawmakers struggle to deal with accelerating market demands, the average citizen's ability to organize his or her time to accommodate all of life's activities is diminishing. Meanwhile, it is increasingly hard to differentiate weekdays from weekends, and ordinary days from holidays. The law of time, Rakoff argues, may need refashioning to meet modern circumstances, but we continue to need a stable legal structure of time if we are to attain the ancient goal of a balanced life: "A Time for Every Purpose."
or
Not Currently Available for Direct Purchase