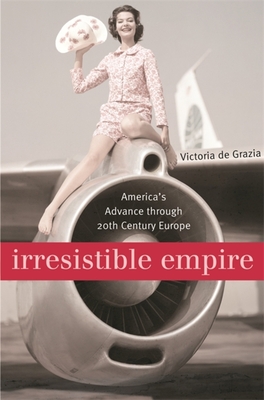 Irresistible Empire (Paperback)
America's Advance Through Twentieth-Century Europe
Belknap Press, 9780674022348, 586pp.
Publication Date: October 1, 2006
Other Editions of This Title:
Hardcover (4/1/2005)
* Individual store prices may vary.
Description
The most significant conquest of the twentieth century may well have been the triumph of American consumer society over Europe's bourgeois civilization. It is this little-understood but world-shaking campaign that unfolds in Irresistible Empire, Victoria de Grazia's brilliant account of how the American standard of living defeated the European way of life and achieved the global cultural hegemony that is both its great strength and its key weakness today.
De Grazia describes how, as America's market empire advanced with confidence through Europe, spreading consumer-oriented capitalism, all alternative strategies fell before it--first the bourgeois lifestyle, then the Third Reich's command consumption, and finally the grand experiment of Soviet-style socialist planning. Tracing the peculiar alliance that arrayed New World salesmanship, statecraft, and standardized goods against the Old World's values of status, craft, and good taste, Victoria de Grazia follows the United States' market-driven imperialism through a vivid series of cross-Atlantic incursions by the great inventions of American consumer society. We see Rotarians from Duluth in the company of the high bourgeoisie of Dresden; working-class spectators in ramshackle French theaters conversing with Garbo and Bogart; Stetson-hatted entrepreneurs from Kansas in the midst of fussy Milanese shoppers; and, against the backdrop of Rome's Spanish Steps and Paris's Opera Comique, Fast Food in a showdown with advocates for Slow Food. Demonstrating the intricacies of America's advance, de Grazia offers an intimate and historical dimension to debates over America's exercise of soft power and the process known as Americanization. She raises provocative questions about the quality of the good life, democracy, and peace that issue from the vaunted victory of mass consumer culture.
or
Not Currently Available for Direct Purchase