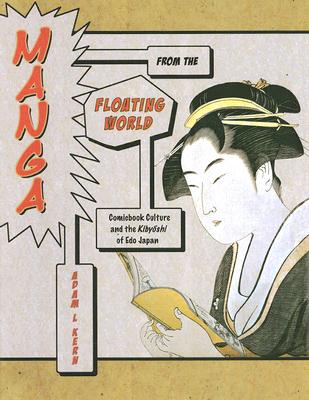 Manga from the Floating World (Hardcover)
Comicbook Culture and the Kibyoshi of Edo Japan
Harvard University Press, 9780674022669, 256pp.
Publication Date: January 1, 2007
Other Editions of This Title:
Hardcover (6/1/2019)
* Individual store prices may vary.
Description
"Manga from the Floating World" is the first full-length study in English of the "kibyoshi," a genre of sophisticated pictorial fiction widely read in late-eighteenth-century Japan. By combining analysis of the socioeconomic and historical milieus in which the genre was produced and consumed with three annotated translations of works by major author-artist Santo Kyoden (1761-1816) that closely reproduce the experience of encountering the originals, Adam Kern offers a sustained close reading of the vibrant popular imagination of the mid-Edo period. The "kibyoshi," Kern argues, became an influential form of political satire that seemed poised to transform the uniquely Edoesque brand of urban commoner culture into something more, perhaps even a national culture, until the shogunal government intervened.
Based on extensive research using primary sources in their original Edo editions, the volume is copiously illustrated with rare prints from Japanese archival collections. It serves as an introduction not only to the "kibyoshi" but also to the genre's readers and critics, narratological conventions, modes of visuality, format, and relationship to the modern Japanese comicbook ("manga") and to the popular literature and wit of Edo. Filled with graphic puns and caricatures, these entertaining works will appeal to the general reader as well as to the more experienced student of Japanese cultural history.
or
Not Currently Available for Direct Purchase