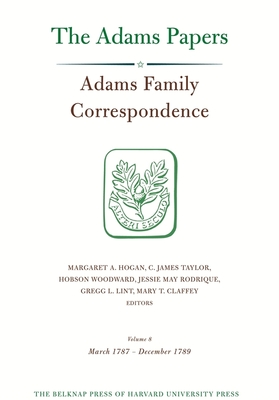 Adams Family Correspondence, Volume 8 (Hardcover)
March 1787 - December 1789 (Adams Papers #5)
Belknap Press, 9780674022782, 592pp.
Publication Date: February 1, 2007
Other Editions of This Title:
Hardcover (8/13/2019)
Hardcover (7/1/2013)
Hardcover (7/1/2009)
Hardcover (1/1/1973)
Hardcover (3/15/2011)
Hardcover (8/14/2017)
Hardcover (6/9/2015)
Hardcover (7/29/2005)
Hardcover (12/1/1992)
Hardcover (1/1/1963)
* Individual store prices may vary.
Description
By early 1787, as this latest volume of the award-winning series Adams Family Correspondence opens, John and Abigail Adams were eagerly planning their return home to Massachusetts from Great Britain, frustrated by John's lack of progress in his diplomatic mission and anxious for a reunion with family and friends. Arriving in Massachusetts in mid-1788, they anticipated a quiet retirement from government service as they returned to running their farm. But they barely had time to settle in before they were pulled back into the public sphere by John's election as the first vice president under the new Constitution. Moving to New York City in 1789 with their daughter Nabby, and her family, John and Abigail found themselves once again center stage in American political life.
The Adamses serve as prescient and thoughtful observers of the world around them, from the manners and mores of English court life to the political intrigues of the new federal government in New York. Beyond that wider world, however, these letters observe the more intimate domestic concerns of a New England family. With more of the forthright candor that marks the Adamses' correspondence, this volume offers a unique perspective on a crucial period in American history.
or
Not Currently Available for Direct Purchase