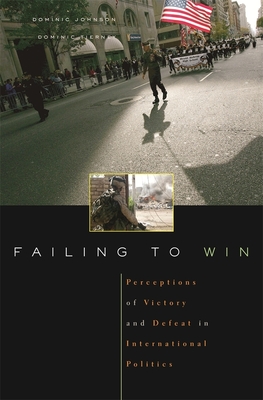 Failing to Win (Hardcover)
Perceptions of Victory and Defeat in International Politics
Harvard University Press, 9780674023246, 345pp.
Publication Date: October 1, 2006
* Individual store prices may vary.
Description
How do people decide which country came out ahead in a war or a crisis? Why, for instance, was the Mayaguez Incident in May 1975--where 41 U.S. soldiers were killed and dozens more wounded in a botched hostage rescue mission--perceived as a triumph and the 1992-94 U.S. humanitarian intervention in Somalia, which saved thousands of lives, viewed as a disaster? In Failing to Win, Dominic Johnson and Dominic Tierney dissect the psychological factors that predispose leaders, media, and the public to perceive outcomes as victories or defeats--often creating wide gaps between perceptions and reality.
To make their case, Johnson and Tierney employ two frameworks: "Scorekeeping," which focuses on actual material gains and losses; and "Match-fixing," where evaluations become skewed by mindsets, symbolic events, and media and elite spin. In case studies ranging from the 1962 Cuban Missile Crisis and the current War on Terror, the authors show that much of what we accept about international politics and world history is not what it seems--and why, in a time when citizens offer or withdraw support based on an imagined view of the outcome rather than the result on the ground, perceptions of success or failure can shape the results of wars, the fate of leaders, and the "lessons" we draw from history.
or
Not Currently Available for Direct Purchase