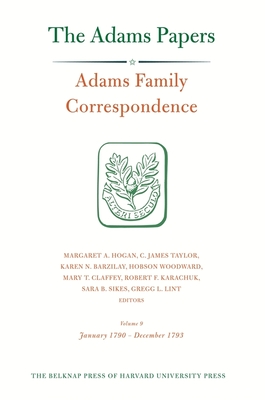 Adams Family Correspondence, Volume 9 (Hardcover)
January 1790 - December 1793 (Adams Papers #6)
Belknap Press, 9780674032750, 624pp.
Publication Date: July 1, 2009
Other Editions of This Title:
Hardcover (8/13/2019)
Hardcover (8/14/2017)
Hardcover (7/1/2013)
Hardcover (1/1/1973)
Hardcover (3/15/2011)
Hardcover (6/9/2015)
Hardcover (7/29/2005)
Hardcover (12/1/1992)
Hardcover (1/1/1963)
Hardcover (2/1/2007)
* Individual store prices may vary.
Description
The years 1790 to 1793 marked the beginning of the American republic, a contentious period as the nation struggled to create a functioning government amid increasingly bitter factionalism. On the international stage, the turmoil of the French Revolution raised important questions about the nature of government. As usual, the Adams family found itself in the midst of it all. Vice President John Adams chaired Senate sessions even as he was prevented from participating in any meaningful fashion. Abigail joined him when her health permitted, but even from afar she provided important advice and keen observations on politics and society.
All four Adams children are well represented here, especially Charles and Thomas Boylston, who, for the first time, appear as correspondents in their own right. Both embarked on legal careers, Charles in New York and Thomas in Philadelphia, while John Quincy did the same in Boston. Daughter Nabby cared for her growing family as her ambitious husband, William Stephens Smith, pursued financial schemes. This volume offers both insight into the family and the frank commentary on life that readers have come to expect from the Adamses.