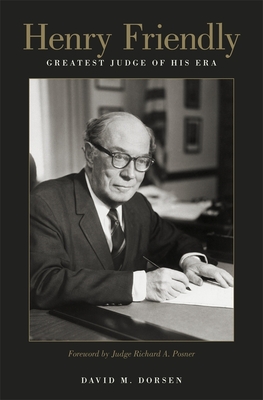 Henry Friendly, Greatest Judge of His Era (Hardcover)
Belknap Press, 9780674064393, 498pp.
Publication Date: March 27, 2012
* Individual store prices may vary.
Description
Henry Friendly is frequently grouped with Oliver Wendell Holmes, Louis Brandeis, Benjamin Cardozo, and Learned Hand as the best American jurists of the twentieth century. In this first, comprehensive biography of Friendly, David M. Dorsen opens a unique window onto how a judge of this caliber thinks and decides cases, and how Friendly lived his life.
During his time on the Court of Appeals for the Second Circuit (1959-1986), Judge Friendly was revered as a conservative who exemplified the tradition of judicial restraint. But he demonstrated remarkable creativity in circumventing precedent and formulating new rules in multiple areas of the law. Henry Friendly, Greatest Judge of His Era describes the inner workings of Friendly's chambers and his craftsmanship in writing opinions. His articles on habeas corpus, the Fourth Amendment, self-incrimination, and the reach of the state are still cited by the Supreme Court.
Dorsen draws on extensive research, employing private memoranda between the judges and interviews with all fifty-one of Friendly's law clerks--a veritable Who's Who that includes Chief Justice John R. Roberts, Jr., six other federal judges, and seventeen professors at Harvard, Yale, Stanford, and elsewhere. In his Foreword, Judge Richard Posner writes: "David Dorsen has produced the most illuminating, the most useful, judicial biography that I have ever read . . . We learn more about the American judiciary at its best than we can learn from any other . . . Some of what I've learned has already induced me to make certain changes in my judicial practice."
About the Author
David M. Dorsen is Of Counsel to Sedgwick LLP, based in Washington, D.C.
or
Not Currently Available for Direct Purchase