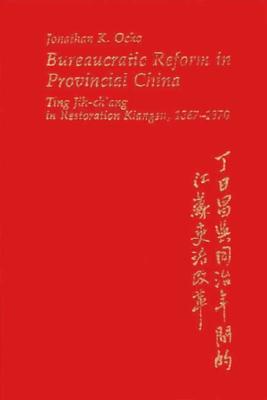 Bureaucratic Reform in Provincial China (Hardcover)
Ting Jih-Ch'ang in Restoration Kiangsu (Harvard East Asian Monographs #103)
Harvard University Press, 9780674086173, 316pp.
Publication Date: April 6, 1983
* Individual store prices may vary.
Description
Drawing upon the unique public and private papers of Ting Jih-ch'ang, Governor of Kiangsu, 1868-1870, this work examines the implementation of post-Taiping T'ung-chih Restoration programs in that province. The restoration of local order and rectification of society, judicial administration, fiscal affairs, and personnel problems are described against a background of continuous struggle for dominance in the countryside between local government on the one hand and the local elite on the other.
Jonathan Ocko demonstrates that the declining quality of local officials resulted in an erosion of public capacity, in particular of the government's fiscal efficiency, and sharpened the moral dilemmas of office holding. Ocko's close look at the provincial and local levels of administration and at the day-to-day problems faced by TingJih-ch'ang illuminates the frustrations and failures of the reform process.
or
Not Currently Available for Direct Purchase