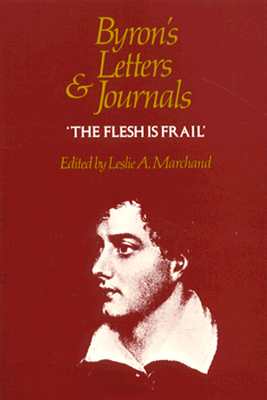 Byron's Letters and Journals, Volume VI (Hardcover)
'the Flesh Is Frail, ' 1818-1819
Belknap Press, 9780674089464, 306pp.
Publication Date: January 1, 1976
Other Editions of This Title:
Hardcover (4/9/1982)
Hardcover (6/6/1980)
Hardcover (7/15/1981)
Hardcover (11/9/1978)
Hardcover (1/1/1979)
Hardcover (1/1/1976)
Hardcover (1/1/1975)
Hardcover (1/1/1974)
Hardcover (1/1/1973)
* Individual store prices may vary.
Description
George Gordon Byron was a superb letter-writer: almost all his letters, whatever the subject or whoever the recipient, are enlivened by his wit, his irony, his honesty, and the sharpness of his observation of people. They provide a vivid self-portrait of the man who, of all his contemporaries, seems to express attitudes and feelings most in tune with the twentieth century. In addition, they offer a mirror of his own time. This first collected edition of all Byron's known letters supersedes Prothero's incomplete edition at the turn of the century. It includes a considerable number of hitherto unpublished letters and the complete text of many that were bowdlerized by former editors for a variety of reasons. Prothero's edition included 1,198 letters. This edition has more than 3,000, over 80 percent of them transcribed entirely from the original manuscripts.
Byron's epistolary saga continues con brio in this volume. At the start of 1818 he sends off the last canto of Childe Harold and abandons himself to the debaucheries of the Carnival in Venice. At the close of 1819 he resolves to return to England but instead follows Teresa Guiccioli to Ravenna. In the meantime he writes three long poems and two cantos of Don Juan, whose bowdlerization he violently protests; he breaks off with Marianna Segati, copes with his amorous "tigress" Margarita Cogni, then falls passionately in love with the young Countess Guiccioli; he thinks seriously of emigrating to South America; he takes custody of his little daughter Allegra and becomes increasingly fond of the child. The Shelleys visit him, as does Thomas Moore, to whom he entrusts his memoirs (burned after his death). The letters to friends are a marvelous outpouring of funny anecdotes, practical talk, discussions of his poems, statements of his beliefs. The love letters are in a class by themselves.
or
Not Currently Available for Direct Purchase