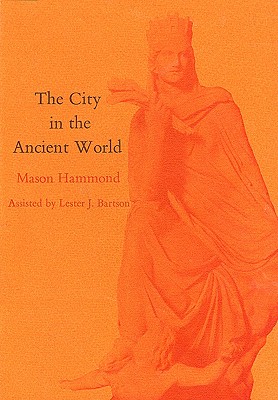 The City in the Ancient World (Harvard Studies in Urban History)
Hardcover

* Individual store prices may vary.
Other Editions of This Title:
Paperback (12/12/1972)
Description
The emergence of cities in the different regions of the ancient world presents two problems. First, in areas of common culture or at least of cultural contact, did the cities evolve independently, as phenomena of social, political, and economic growth, or did they emanate from a common center of origin? Second, how did the Greco-Roman city-state originate? In considering these questions, Mason Hammond has limited the ancient world to the Middle and Near East, the Indus Valley, and the Mediterranean region. He takes geographical and economic factors into account as he treats the cities historically by areas, from their first development in Sumeraround 3200 B.C, to the end of the ancient world in the middle of the sixth century A.D. Mr. Hammond concludes that the city's evolution was a phenomenon of local social development but was also influenced by older cultures. The city-state, he shows, was a creation of the Greek genius. It was diffused throughout the Greco-Ronan world, and withered with the decline of ancient culture in the early Middle Ages. The author provides brief geographical descriptions of the areas he covers. Thirteen maps give the locations of places referred to in the text. Where ancient and modern names differ markedly, both are given, in the text and in an index of the places shown on the maps. An extensive chronological survey and a general index document the text.
Harvard University Press, 9780674131804, 638pp.
Publication Date: January 1, 1972
or
Not Currently Available for Direct Purchase