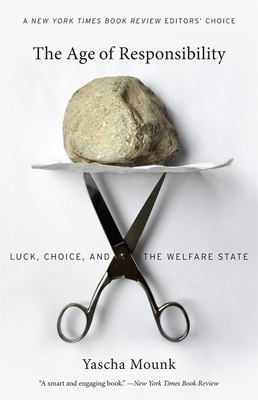 The Age of Responsibility (Paperback)
Luck, Choice, and the Welfare State
Harvard University Press, 9780674237674, 288pp.
Publication Date: June 17, 2019
Other Editions of This Title:
Hardcover (5/9/2017)
* Individual store prices may vary.
Description
A New York Times Book Review Editors' Choice
Responsibility--which once meant the moral duty to help and support others--has come to be equated with an obligation to be self-sufficient. This has guided recent reforms of the welfare state, making key entitlements conditional on good behavior. Drawing on political theory and moral philosophy, Yascha Mounk shows why this re-imagining of personal responsibility is pernicious--and suggests how it might be overcome.
"This important book prompts us to reconsider the role of luck and choice in debates about welfare, and to rethink our mutual responsibilities as citizens."
--Michael J. Sandel, author of Justice
"A smart and engaging book... Do we so value holding people accountable that we are willing to jeopardize our own welfare for a proper comeuppance?"
--New York Times Book Review
"An important new book... Mounk] mounts a compelling case that political rhetoric...has shifted over the last half century toward a markedly punitive vision of social welfare."
--Los Angeles Review of Books
"A terrific book. The insight at its heart--that the conception of responsibility now at work in much public rhetoric and policy is both punitive and ill-conceived--is very important and should be widely heeded."
--Jedediah Purdy, author of After Nature: A Politics for the Anthropocene