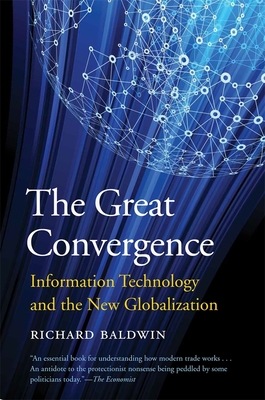 The Great Convergence (Paperback)
Information Technology and the New Globalization
Belknap Press, 9780674237841, 344pp.
Publication Date: May 6, 2019
Other Editions of This Title:
Hardcover (11/14/2016)
* Individual store prices may vary.
Description
An Economist Best Book of the Year
A Financial Times Best Economics Book of the Year
A Fast Company "7 Books Microsoft CEO Satya Nadella Says You Need to Lead Smarter"
Between 1820 and 1990, the share of world income going to today's wealthy nations soared from twenty percent to almost seventy. Since then, that share has plummeted to where it was in 1900. As the renowned economist Richard Baldwin reveals, this reversal of fortune reflects a new age of globalization that is drastically different from the old. The nature of globalization has changed, but our thinking about it has not.
Baldwin argues that the New Globalization is driven by knowledge crossing borders, not just goods. That is why its impact is more sudden, more individual, more unpredictable, and more uncontrollable than before--which presents developed nations with unprecedented challenges as they struggle to maintain reliable growth and social cohesion. It is the driving force behind what Baldwin calls "The Great Convergence," as Asian economies catch up with the West.
"In this brilliant book, Baldwin has succeeded in saying something both new and true about globalization."
--Martin Wolf, Financial Times
"A very powerful description of the newest phase of globalization."
--Larry Summers, former U.S. Secretary of the Treasury
"An essential book for understanding how modern trade works via global supply chains. An antidote to the protectionist nonsense being peddled by some politicians today."
--The Economist
" An] indispensable guide to understanding how globalization has got us here and where it is likely to take us next."
--Alan Beattie, Financial Times