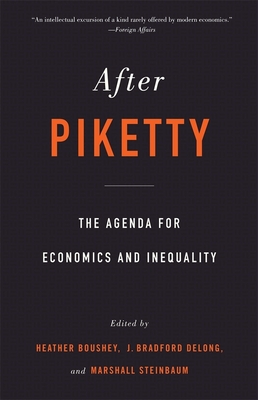 After Piketty (Paperback)
The Agenda for Economics and Inequality
Harvard University Press, 9780674237889, 688pp.
Publication Date: February 11, 2019
Other Editions of This Title:
Hardcover (5/8/2017)
* Individual store prices may vary.
Description
A Foreign Affairs Best Book of the Year
"An intellectual excursion of a kind rarely offered by modern economics."
--Foreign Affairs
Thomas Piketty's Capital in the Twenty-First Century is the most widely discussed work of economics in recent years. But are its analyses of inequality and economic growth on target? Where should researchers go from there in exploring the ideas Piketty pushed to the forefront of global conversation? A cast of leading economists and other social scientists--including Emmanuel Saez, Branko Milanovic, Laura Tyson, and Michael Spence--tackle these questions in dialogue with Piketty.
"A fantastic introduction to Piketty's main argument in Capital, and to some of the main criticisms, including doubt that his key equation...showing that returns on capital grow faster than the economy--will hold true in the long run."
--Nature
"Piketty's work...laid bare just how ill-equipped our existing frameworks are for understanding, predicting, and changing inequality. This extraordinary collection shows that our most nimble social scientists are responding to the challenge."
--Justin Wolfers, University of Michigan