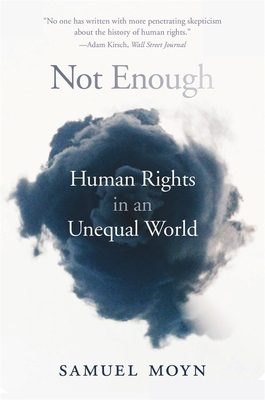 Not Enough (Paperback)
Human Rights in an Unequal World
Belknap Press, 9780674241398, 296pp.
Publication Date: September 17, 2019
Other Editions of This Title:
Hardcover (4/10/2018)
* Individual store prices may vary.
Description
The age of human rights has been kindest to the rich. Even as state violations of political rights garnered unprecedented attention due to human rights campaigns, a commitment to material equality disappeared. In its place, economic liberalization has emerged as the dominant force in national and global economies. In this provocative book, Samuel Moyn analyzes how and why we chose to make human rights our highest ideals while simultaneously neglecting the demands of a broader social and economic justice.
Moyn places the human rights movement in relation to this disturbing shift from an embrace of the welfare state to the neoliberal globalization of today and explores why the rise of human rights has occurred alongside exploding inequality.
"Samuel Moyn breaks new ground in examining the relationship between human rights and economic fairness."
--George Soros
" The book's] critical--and self-critical--energy is consistently bracing, and is surely a condition of restoring the pursuit of equality and justice as an indispensable modern tradition."
--Pankaj Mishra, London Review of Books
"No one has written with more penetrating skepticism about the history of human rights... Moyn asks whether human-rights theorists and advocates, in the quest to make the world better for all, have actually helped to make things worse...Sure to provoke a wider discussion."
--Adam Kirsch, Wall Street Journal