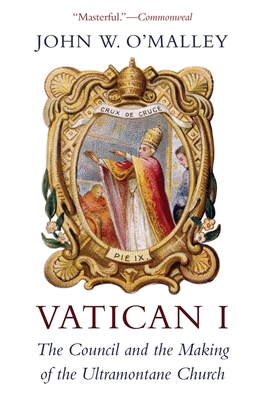 Vatican I (Paperback)
The Council and the Making of the Ultramontane Church
Belknap Press, 9780674241404, 320pp.
Publication Date: August 6, 2019
Other Editions of This Title:
Hardcover (5/7/2018)
Compact Disc (10/16/2018)
Compact Disc (10/16/2018)
MP3 CD (10/16/2018)
* Individual store prices may vary.
Description
In 1869, some seven hundred Catholic bishops traveled to Rome to participate in the first church-wide council in three hundred years. The French Revolution had shaken the foundations of the church. Pope Pius IX was determined to set things right through a declaration by the council that the pope was infallible.
John W. O'Malley brings to life the bitter, schism-threatening conflicts that erupted at Vatican I. The pope's zeal in pressing for infallibility raised questions about the legitimacy of the council, at the same time as Italian forces under Garibaldi seized the Papal States and were threatening to take control of Rome itself. Gladstone and Bismarck entered the fray. As its temporal dominion shrank, the Catholic Church became more pope-centered than ever before, with lasting consequences.
"O'Malley's account of the debate over infallibility is masterful."
--Commonweal
" O'Malley] excels in describing the ways in which the council initiated deep changes that still affect the everyday lives of Catholics."
--First Things
"An eminent scholar of modern Catholicism...O'Malley...invit es] us to see Catholicism's recent history as profoundly shaped by and against the imposing legacy of Pius IX."
--Wall Street Journal
"Gripping...O'Malley continues to engage us with a past that remains vitally present."
--The Tablet
"The worldwide dean of church historians has completed his trinity of works on church councils... A] masterclass in church history...telling us as much about the church now as then."
--America