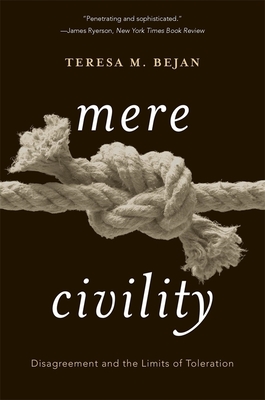 Mere Civility (Paperback)
Disagreement and the Limits of Toleration
Harvard University Press, 9780674241640, 288pp.
Publication Date: November 5, 2019
Other Editions of This Title:
Hardcover (1/2/2017)
* Individual store prices may vary.
Description
A New Statesman Best Book of the Year
A Church Times Book of the Year
We are facing a crisis of civility, a war of words polluting our public sphere. In liberal democracies committed to tolerating active, often heated disagreement, the loss of this virtue appears critical.
Most modern appeals to civility follow arguments by Hobbes or Locke by proposing to suppress disagreement or exclude views we deem "uncivil" for the sake of social harmony. By comparison, mere civility--a grudging conformity to norms of respectful behavior--as defended by Rhode Island's founder, Roger Williams, might seem minimal and unappealing. Yet Teresa Bejan argues that Williams's outlook offers a promising path forward in confronting our own crisis, one that challenges our fundamental assumptions about what a tolerant--and civil--society should look like.
"Penetrating and sophisticated."
--James Ryerson, New York Times Book Review
"Would that more of us might learn to look into the past with such gravity and humility. We might end up with a more (or mere) civil society, yet."
--Los Angeles Review of Books
"A deeply admirable book: original, persuasive, witty, and eloquent."
--Jacob T. Levy, Review of Politics
"A terrific book--learned, vigorous, and challenging."
--Alison McQueen, Stanford University