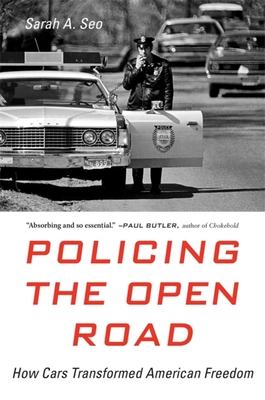 Policing the Open Road
How Cars Transformed American Freedom
Paperback

* Individual store prices may vary.
Other Editions of This Title:
Digital Audiobook (2/17/2020)
Compact Disc (2/18/2020)
Hardcover (4/8/2019)
MP3 CD (2/18/2020)
Description
A Smithsonian Best History Book of the Year
Winner of the Littleton-Griswold Prize
Winner of the Ralph Waldo Emerson Award
Winner of the Order of the Coif Award
Winner of the David J. Langum Sr. Prize in American Legal History
Winner of the Berkshire Conference of Women Historians Book Prize
"From traffic stops to parking tickets, Seo traces the history of cars alongside the history of crime and discovers that the two are inextricably linked."
--
Smithsonian
When Americans think of freedom, they often picture the open road. Yet nowhere are we more likely to encounter the long arm of the law than in our cars. Sarah Seo reveals how the rise of the automobile led us to accept--and expect--pervasive police power, a radical transformation with far-reaching consequences. Before the twentieth century, most Americans rarely came into contact with police officers. But in a society dependent on cars, everyone--law-breaking and law-abiding alike--is subject to discretionary policing. Seo challenges prevailing interpretations of the Warren Court's due process revolution and argues that the Supreme Court's efforts to protect Americans did more to accommodate than limit police intervention.
Policing the Open Road
shows how the new procedures sanctioned discrimination by officers, and ultimately undermined the nation's commitment to equal protection before the law. "With insights ranging from the joy of the open road to the indignities--and worse--of 'driving while black, ' Sarah Seo makes the case that the 'law of the car' has eroded our rights to privacy and equal justice...Absorbing and so essential."
--Paul Butler, author of
Chokehold
"A fascinating examination of how the automobile reconfigured American life, not just in terms of suburbanization and infrastructure but with regard to deeply ingrained notions of freedom and personal identity."
--Hua Hsu,
New Yorker
Harvard University Press, 9780674260344, 352pp.
Publication Date: August 10, 2021