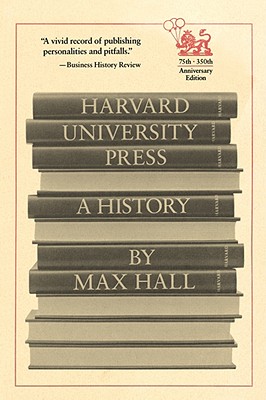 Harvard University Press (Paperback)
A History
Harvard University Press, 9780674380813, 272pp.
Publication Date: June 15, 1988
Other Editions of This Title:
Hardcover (4/10/1986)
* Individual store prices may vary.
Description
A university press is a curious institution, dedicated to the dissemination of learning yet apart from the academic structure; a publishing firm that is in business, but not to make money; an arm of the university that is frequently misunderstood and occasionally attacked by faculty and administration. Max Hall here chronicles the early stages and first sixty years of Harvard University Press in a rich and entertaining book that is at once Harvard history, publishing history, printing history, business history, and intellectual history.
The tale begins in 1638 when the first printing press arrived in British North America. It became the property of Harvard College and remained so for nearly half a century. Hall sketches the various forerunners of the "real" Harvard University Press, founded in 1913, and then follows the ups and downs of its first six decades, during which the Press published steadily if not always serenely a total of 4,500 books. He describes the directors and others who left their stamp on the Press or guided its fortunes during these years. And he gives the stories behind such enduring works as Lovejoy's Great Chain of Being, Giedion's Space, Time and Architecture, Langer's Philosophy in a New Key, and Kelly's Eleanor of Aquitaine and the Four Kings.