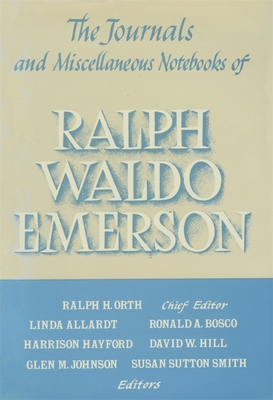 Journals and Miscellaneous Notebooks of Ralph Waldo Emerson, Volume XV (Hardcover)
1860-1866 (Journals & Miscellaneous Notebooks of Ralph Waldo Emerson #15)
Belknap Press, 9780674484788, 624pp.
Publication Date: July 2, 1982
Other Editions of This Title:
Hardcover (12/8/1982)
Hardcover (1/1/1977)
Hardcover (5/15/1978)
Hardcover (1/1/1973)
Hardcover (1/1/1975)
Hardcover (1/1/1970)
Hardcover (1/1/1971)
Hardcover (1/1/1966)
Hardcover (1/1/1969)
Hardcover (1/1/1965)
Hardcover (1/1/1964)
Hardcover (1/1/1963)
Hardcover (1/1/1961)
Hardcover (1/1/1960)
* Individual store prices may vary.
Description
The Civil War is a pervasive presence in the journals in this volume. "The war searches character," Ralph Waldo Emerson wrote. Both his reading and his writing reflected his concern for the endurance of the nation, whose strength lay in the moral strength of the people. He read military biographies and memoirs, while turning again to Persian, Chinese, and Indian literature. The deaths of Clough, Thoreau, Hawthorne, and his aunt Mary Moody Emerson prompted him to reread their letters and journals, remembering and reappraising.
These were stirring, poignant years for Emerson. The times were hard, his lecturing was curtailed, and a new book seemed out of the question. He felt the losses, fears, and frustrations that come to those who believe in a cause they are too old to fight for. But his respected position as a man of letters brought him some unusual experiences, such as a trip to Washington in which he met President Lincoln, Secretaries Seward and Chase, and other key figures in the government. Inspecting West Point as a member of the Board of Visitors, he was deeply impressed by the character and spartan training of the cadets who were soon to see action.
At the war's end, busy again with a heavy lecture schedule and feeling his age a little, he took a long look back at the conflict and concluded that war "heals a deeper wound than any it makes."
or
Not Currently Available for Direct Purchase