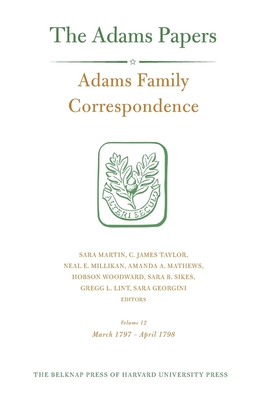 Adams Family Correspondence, Volume 12 (Hardcover)
March 1797 - April 1798 (Adams Papers #28)
Belknap Press, 9780674504660, 688pp.
Publication Date: June 9, 2015
Other Editions of This Title:
Hardcover (7/1/2013)
Hardcover (8/14/2017)
Hardcover (3/15/2011)
Hardcover (1/1/1973)
Hardcover (7/1/2009)
Hardcover (8/13/2019)
Hardcover (7/29/2005)
Hardcover (12/1/1992)
Hardcover (1/1/1963)
Hardcover (2/1/2007)
* Individual store prices may vary.
Description
Volume 12 of Adams Family Correspondence, with 276 documents spanning from March 1797 through April 1798, opens with the inauguration of John Adams as president and closes just after details of the XYZ affair are made public in America. Through private networks of correspondence, the Adamses reveal both their individual concerns for the well-being of the nation and the depth of their public and political engagement with the republic. Abigail's letters to friend and foe demonstrate the important role she played as an unofficial member of the administration. John Quincy and Thomas Boylston's letters from The Hague, Paris, London, and finally Berlin offer keen observations about the political turmoil in France and its consequences, the shifting European landscape as a result of the war, and court life in Berlin following the coronation of Frederick William III.
In the midst of crisis, the family's domestic life and personal connections challenged and sustained them. The marriage of John Quincy and Louisa Catherine Johnson in London in July 1797 gave the family cause for celebration, while John's appointment of John Quincy as U.S. minister to Prussia created a minor rift as the scrupulous younger Adams struggled with concerns about nepotism. Visits between the elder Adamses and their children Nabby and Charles in New York provided welcome distractions, even as John and Abigail worried about Nabby's domestic situation. With the characteristic candor and perception expected from the Adamses, this volume again features forthright commentary from one family at the center of it all.
or
Not Currently Available for Direct Purchase