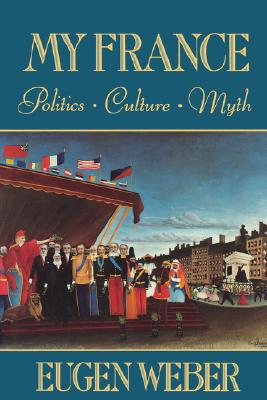 My France P (Paperback)
Belknap Press, 9780674595767, 424pp.
Publication Date: February 1, 1992
* Individual store prices may vary.
Description
"Lots of Romanians, in my day, dreamed of France; not many got there," writes the author in his introduction. "Fortuitousness, contingency, and sheer good luck made me fall into France, just as one falls into love." Fifty years after reaching France, by way of school in England, Eugen Weber presents a series of illuminations on the country he loves, and whose civilization he has made the center of his life's work as an interpreter of European history, subspecialty France.
My France focuses on some of the most intriguing aspects of French life: polities, myths, personalities, public problems, actions, conflicts. The topics Weber treats range from sports to religion, and include comments on folklore, peasant politicization, national socialism, the nature of the French right, antisemitism, and famous Frenchmen such as Pierre de Coubertin, Maurice Barres, and Marc Bloch. In every chapter he questions established assumptions, asks if things are quite as they are taken to be, and points out links between apparently unrelated doings (literature and private income, religion and superstition, fairy tales and everyday life). Every essay reflects his unique insight and is enlivened by his witty and graceful style, making My France irresistible not only to students of modern European history, but also to Francophiles and pundits of Europe everywhere.