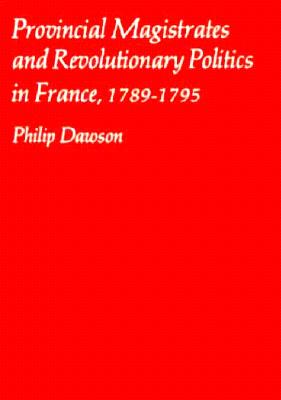 Provincial Magistrates and Revolutionary Politics in France, 1789-1795 (Harvard Historical Monographs #66)
Hardcover

* Individual store prices may vary.
Description
It is commonly agreed that the history of France at the end of the eighteenth century was influenced powerfully, at times decisively, by collective interests and group actions. Yet, as Philip Dawson shows, this consensus has been the foundation of endless scholarly argument over the purposes of group actions and their effects on economic, political, and intellectual life, the accuracy of facts reported, the validity of different methods of analysis, and the significance of the whole topic for previous and subsequent human experience. In probing these questions, this monograph contributes research findings to the historical controversy over the political motives and conduct of the upper bourgeoisie during the French Revolution.
Chosen for study is a well-defined occupational group near the pinnacle of the bourgeoisie, the 2700 judicial officeholders in the bailliages and s n chauss es--royal courts from which appeals were taken to the parlements. These lower-court magistrates were generally well-to-do and esteemed personages in the provincial bourgeoisie, who could potentially be drawn to either side in a political struggle between nobility and bourgeoisie. They constituted more than 20 percent of the bourgeois representation in the Estates General of 1789. Revolutionary legislation abolished their offices, but many of them remained active in politics even under the revolutionary republic.
Dawson makes use of a variety of manuscript materials pertinent to the magistrates as he treats their activities as members of corporate groups before 1790 and follows many of them as individuals through the revolutionary years to 1795. In part, the book is based on biographical data relating to 230 magistrates--all who were in office in the provinces of Burgundy and Poitou at the outbreak of the revolution.
By the end of 1789, the author concludes, most of the magistrates came to accept revolutionary change because alternative courses of action had been made more unacceptable to them. It was their support that helped to make possible the revolutionary process itself. "They were not the leaders of the revolutionary bourgeoisie. Before 1789, they had been in the highest rank of the bourgeoisie and they remained a notable part of it, but most of them had come to support revolution hesitantly, cautiously, with moderation and many a backward glance."
Harvard University Press, 9780674719606, 402pp.
Publication Date: January 1, 1972
or
Not Currently Available for Direct Purchase