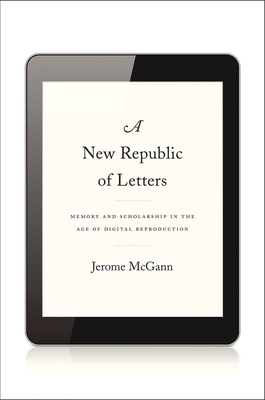 A New Republic of Letters (Hardcover)
Memory and Scholarship in the Age of Digital Reproduction
Harvard University Press, 9780674728691, 238pp.
Publication Date: March 17, 2014
* Individual store prices may vary.
Description
A manifesto for the humanities in the digital age, A New Republic of Letters argues that the history of texts, together with the methods by which they are preserved and made available for interpretation, are the overriding subjects of humanist study in the twenty-first century. Theory and philosophy, which have grounded the humanities for decades, no longer suffice as an intellectual framework. Jerome McGann proposes we look instead to philology--a discipline which has been out of fashion for many decades but which models the concerns of digital humanities with surprising fidelity.
For centuries, books have been the best way to preserve and transmit knowledge. But as libraries and museums digitize their archives and readers abandon paperbacks for tablet computers, digital media are replacing books as the repository of cultural memory. While both the mission of the humanities and its traditional modes of scholarship and critical study are the same, the digital environment is driving disciplines to work with new tools that require major, and often very difficult, institutional changes. Now more than ever, scholars need to recover the theory and method of philological investigation if the humanities are to meet their perennial commitments. Textual and editorial scholarship, often marginalized as a narrowly technical domain, should be made a priority of humanists' attention.
or
Not Currently Available for Direct Purchase