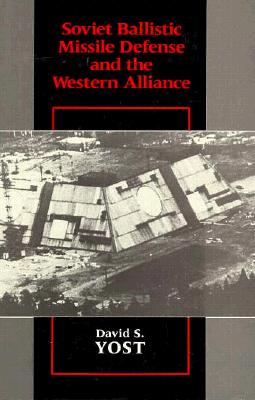 Soviet Ballistic Missile Defense and the Western Alliance (Hardcover)
Harvard University Press, 9780674826106, 405pp.
Publication Date: October 12, 1988
* Individual store prices may vary.
Description
This is a study of the strategic challenges that Soviet ballistic missile defense (BMD) programs may pose for the Western alliance. David Yost suggests that the challenges for Western policy stem partly from Soviet military programs, Soviet arms control policies, and Soviet public diplomacy campaigns, and partly from the West's own intra-alliance disagreements and lack of consensus about Western security requirements.
By reviewing the history of Western assessments of Soviet BMD, Yost shows that long before the American strategic defense initiative (SDI) was launched, Soviet BMD system modernization and infrastructure expansion were well under way, and that current Soviet programs are not mainly reactive to the SDI. Yost judges that the Soviets are probably better prepared than the Americans to deploy a network of traditional, ground-based BMD systems that would have at least some military value in the next decade, particularly against the limited and selective retaliatory attacks envisaged in NATO strategy. He does not argue that the Soviets are preparing for a clear-cut "breakout" from current arms control limits on BMD, but he notes the risks posed by activities that could eventually amount to a "creepout" from certain treaty constraints. Because of such ambiguities and the seriousness of the strategic and political stakes, the West should be prepared to pursue any necessary countermeasures in a timely fashion. His aim in this book is to advance understanding of the possible strategic challenges to the West and to identify potential points of consensus for Western policies.
or
Not Currently Available for Direct Purchase