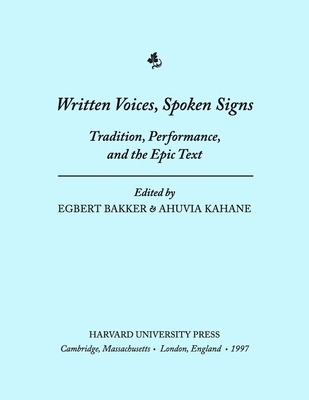 Written Voices, Spoken Signs (Hardcover)
Tradition, Performance, and the Epic Text (Center for Hellenic Studies Colloquia #1)
Harvard University Press, 9780674962606, 320pp.
Publication Date: July 1, 1997
* Individual store prices may vary.
Description
Written Voices, Spoken Signs is a stimulating introduction to new perspectives on Homer and other traditional epics. Taking advantage of recent research on language and social exchange, the nine essays in this volume focus on performance and audience reception of oral poetry.
These innovative essays by leading scholars of Homer, oral poetics, and epic invite us to rethink some key concepts for an understanding of traditional epic poetry. Egbert Bakker examines the epic performer's use of time and tense in recounting a past that is alive. Tackling the question of full-length performance of the monumental Iliad, Andrew Ford considers the extent to which the work was perceived as a coherent whole in the archaic age. John Miles Foley addresses questions about spoken signs and the process of reference in epic discourse, and Ahuvia Kahane studies rhythm as a semantic factor in the Homeric performance. Richard Martin suggests a new range of performance functions for the Homeric simile. And Gregory Nagy establishes the importance of one feature of epic language, the ellipsis. These six essays centered on Homer engage with fundamental issues that are addressed by three essays primarily concerned with medieval epic: those by Franz B uml on the concept of fact; by Wulf Oesterreicher on types of orality; and by Ursula Schaefer on written and spoken media. In their Introduction the editors highlight the underlying approach and viewpoints of this collaborative volume.
or
Not Currently Available for Direct Purchase