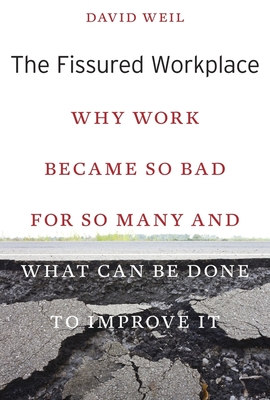 The Fissured Workplace (Paperback)
Why Work Became So Bad for So Many and What Can Be Done to Improve It
Harvard University Press, 9780674975446, 424pp.
Publication Date: May 8, 2017
Other Editions of This Title:
Hardcover (2/17/2014)
* Individual store prices may vary.
Description
For much of the twentieth century, large companies employing many workers formed the bedrock of the U.S. economy. Today, as David Weil's groundbreaking analysis shows, large corporations have shed their role as direct employers of the people responsible for their products, in favor of outsourcing work to small companies that compete fiercely with one another. The result has been declining wages, eroding benefits, inadequate health and safety conditions, and ever-widening income inequality.
"Authoritative... The Fissured Workplace] shed s] important new light on the resurgence of the power of finance and its connection to the debasement of work and income distribution."
--Robert Kuttner, New York Review of Books
"The kinds of workplace fissuring discussed here--subcontracting, franchising and global supply chains---have been the subjects of a number of studies detailing the employment effects that Weil describes. The Fissured Workplace is unusual in bringing this research together into an integrated, detailed and decidedly policy-oriented analysis...It makes a convincing case that the better regulation of fissured workplaces is a first step towards reversing the erosion of pay and conditions at the bottom of the labor market."
--Virginia Doellgast, Times Higher Education