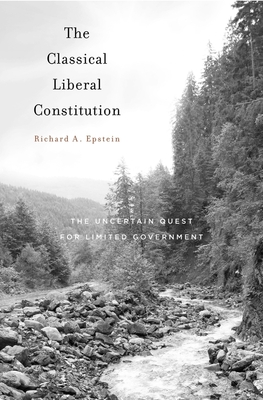 The Classical Liberal Constitution (Paperback)
The Uncertain Quest for Limited Government
Harvard University Press, 9780674975460, 704pp.
Publication Date: March 20, 2017
Other Editions of This Title:
Hardcover (1/6/2014)
* Individual store prices may vary.
Description
American liberals and conservatives alike take for granted a progressive view of the Constitution that took root in the early twentieth century. Richard Epstein laments this complacency which, he believes, explains America's current economic malaise and political gridlock. Steering clear of well-worn debates between defenders of originalism and proponents of a living Constitution, Epstein employs close textual reading, historical analysis, and political and economic theory to urge a return to the classical liberal theory of governance that animated the framers' original text, and to the limited government this theory supports.
" An] important and learned book."
--Gary L. McDowell, Times Literary Supplement
"Epstein has now produced a full-scale and full-throated defense of his unusual vision of the Constitution. This book is his magnum opus...Much of his book consists of comprehensive and exceptionally detailed accounts of how constitutional provisions ought to be understood...All of Epstein's particular discussions are instructive, and most of them are provocative...Epstein has written a passionate, learned, and committed book."
--Cass R. Sunstein, New Republic
or
Not Currently Available for Direct Purchase