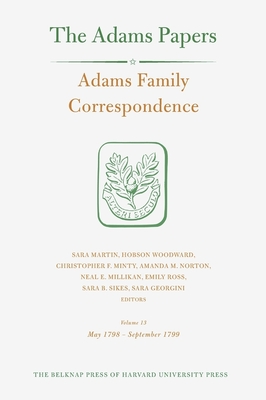 Adams Family Correspondence, Volume 13 (Hardcover)
May 1798 - September 1799 (Adams Papers #31)
Belknap Press, 9780674977181, 720pp.
Publication Date: August 14, 2017
Other Editions of This Title:
Hardcover (8/13/2019)
Hardcover (7/1/2013)
Hardcover (7/1/2009)
Hardcover (1/1/1973)
Hardcover (3/15/2011)
Hardcover (6/9/2015)
Hardcover (7/29/2005)
Hardcover (12/1/1992)
Hardcover (1/1/1963)
Hardcover (2/1/2007)
* Individual store prices may vary.
Description
The almost 300 letters in volume 13 of Adams Family Correspondence were written during seventeen tumultuous months of John Adams's presidency. Consumed with executive duties, he depended on surrogates for much of his correspondence with family members. From Quincy, an ailing Abigail Adams wrote frequent letters to Philadelphia and received lively responses from son Thomas Boylston and the president's secretary, nephew William Smith Shaw. These letters attest to John's popularity in the wake of the XYZ Affair. However, they also chronicle passage of the Alien and Sedition Acts and the Kentucky and Virginia Resolutions, which laid the groundwork for future debates on the relative roles of state and federal governments. Following the break in diplomacy with France, John sensed a change in the footing of the French, acted unilaterally in ordering a second mission to seek a negotiated settlement of the Quasi-War, and faced widespread skepticism about his foreign policy as his envoys departed for Europe.
John and Abigail lamented yet another absence from each other. After completing service in Berlin as secretary to diplomat John Quincy, Thomas Boylston established himself as a Philadelphia lawyer, offering thoughtful commentary on political life in the capital. From his post in Prussia, John Quincy struggled with his brother Charles's mismanagement of his financial affairs, but his letters also provide detailed updates on developments in Europe, including Napoleon's invasion of Egypt. The candid letters of John and Abigail Adams and their children offer a rich perspective on life in America during its infancy.