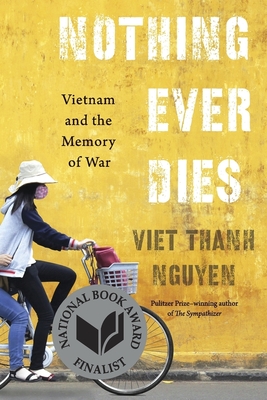 Nothing Ever Dies (Paperback)
Vietnam and the Memory of War
Harvard University Press, 9780674979840, 384pp.
Publication Date: November 20, 2017
* Individual store prices may vary.
Description
Finalist, National Book Critics Circle Award
Finalist, National Book Award in Nonfiction
A New York Times Book Review "The Year in Reading" Selection
All wars are fought twice, the first time on the battlefield, the second time in memory. From the author of the Pulitzer Prize-winning novel The Sympathizer comes a searching exploration of the conflict Americans call the Vietnam War and Vietnamese call the American War--a conflict that lives on in the collective memory of both nations.
" A] gorgeous, multifaceted examination of the war Americans call the Vietnam War--and which Vietnamese call the American War...As a writer, Nguyen] brings every conceivable gift--wisdom, wit, compassion, curiosity--to the impossible yet crucial work of arriving at what he calls 'a just memory' of this war."
--Kate Tuttle, Los Angeles Times
"In Nothing Ever Dies, his unusually thoughtful consideration of war, self-deception and forgiveness, Viet Thanh Nguyen penetrates deeply into memories of the Vietnamese war... An] important book, which hits hard at self-serving myths."
--Jonathan Mirsky, Literary Review
"Ultimately, Nguyen's lucid, arresting, and richly sourced inquiry, in the mode of Susan Sontag and W. G. Sebald, is a call for true and just stories of war and its perpetual legacy."
--Donna Seaman, Booklist (starred review)