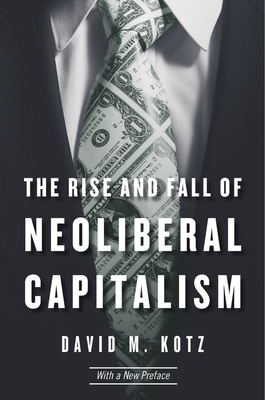 The Rise and Fall of Neoliberal Capitalism (Paperback)
Harvard University Press, 9780674980013, 304pp.
Publication Date: September 18, 2017
Other Editions of This Title:
Hardcover (2/9/2015)
* Individual store prices may vary.
Description
The financial and economic collapse that began in the United States in 2008 and spread to the rest of the world continues to burden the global economy. David Kotz, who was one of the few academic economists to predict it, argues that the ongoing economic crisis is not simply the aftermath of financial panic and an unusually severe recession but instead is a structural crisis of neoliberal, or free-market, capitalism. Consequently, continuing stagnation cannot be resolved by policy measures alone. It requires major institutional restructuring.
"Kotz's book will reward careful study by everyone interested in the question of
stages in the history of capitalism."
--Edwin Dickens, Science & Society
"Whereas others] suggest that the downfall of the postwar system in Europe and the United States is the result of the triumph of ideas, Kotz argues persuasively that it is actually the result of the exercise of power by those who benefit from the capitalist economic organization of society. The analysis and evidence he brings to bear in support of the role of power exercised by business and political leaders is a most valuable aspect of this book--one among many important contributions to our knowledge that makes it worthwhile."
--Michael Meeropol, Challenge