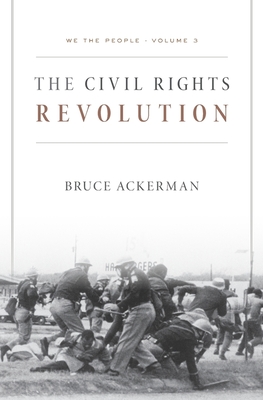 We the People, Volume 3 (Paperback)
The Civil Rights Revolution
Belknap Press, 9780674983946, 432pp.
Publication Date: July 9, 2018
* Individual store prices may vary.
Description
The Civil Rights Revolution carries Bruce Ackerman's sweeping reinterpretation of constitutional history into the era beginning with Brown v. Board of Education. From Rosa Parks's courageous defiance, to Martin Luther King's resounding cadences in "I Have a Dream," to Lyndon Johnson's leadership of Congress, to the Supreme Court's decisions redefining the meaning of equality, the movement to end racial discrimination decisively changed our understanding of the Constitution.
"The Civil Rights Act turns 50 this year, and a wave of fine books accompanies the semicentennial. Ackerman's is the most ambitious; it is the third volume in an ongoing series on American constitutional history called We the People. A professor of law and political science at Yale, Ackerman likens the act to a constitutional amendment in its significance to the country's legal development."
--Michael O'Donnell, The Atlantic
"Ackerman weaves political theory with historical detail, explaining how the civil rights movement evolved from revolution to mass movement and then to statutory law...This fascinating book takes a new look at a much-covered topic."
--Becky Kennedy, Library Journal